Scenic On Eglinton
Late in 2010, Aspen Ridge celebrated the official groundbreaking at Scenic on Eglinton, where the first two of the community's spectacular condominium towers are now under construction at Leslie Street and Eglinton Avenue. Sales have sizzled at the first two phases, which will rise to 16 and 12 storeys and are joined by a podium. Designed by Page + Steele Architects, Scenic's innovative exterior conforms to the contour of this beautiful piece of property, maximizing nature and city views through floor-to-ceiling windows. This neighbourhood has proven such a success, that Aspen Ridge will introduce the third phase early in the new year. Register now for this new and exciting opportunity to own a gorgeous suite in the Ontario Home Builders' Association's 2009 Highrise Project of the Year. Scenic is well named; this highly successful community situated in the midst of acres of picturesque parkland at the edge of Leaside. Within walking distance, there are many trails and parks, including Edwards Gardens and Sunnybrook Park. Residents will enjoy the best of both worlds, with an array of modern urban amenities close by as well. It's just minutes from cinemas and the Leaside shopping strip off Bayview Avenue. Scenic is also right on the new Eglinton LRT line, and is close to the Don Valley Parkway - ideal for purchasers of all ages. Owning at this fabulous condominium is like having a cottage in the city! Interiors by Mike Niven Interior Design include the spa-like lobby with a glassed-in landscape feature, plus the family activity room, game room, and saltwater plunge pool with an arched waterfall. Suites are appointed with 9-foot ceilings, balconies (as per plan), granite kitchen counters, and five appliances. Ask about the available suites in the first two towers, and REGISTER NOW to be among the first to explore the fabulous Scenic III, coming in early 2011. The Mike Niven-designed sales office and incredible model suite are located at 35 Brian Peck Crescent. Hours are from Monday to Wednesday from 1 to 7 p.m.; weekends and holidays from 12 to 6 p.m.; closed Thursday and Friday. For more information, call 416-805-1781 or visit scenicliving.ca. For an overview of Aspen Ridge communities, visit aspenridgehomes.com.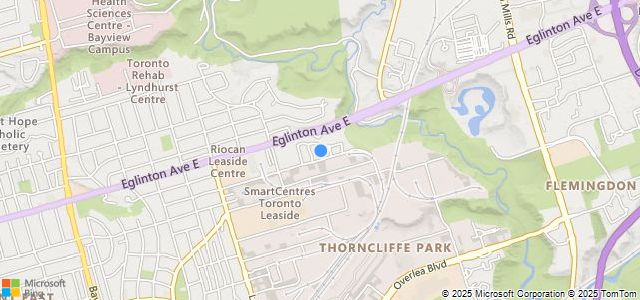 Project information
35 Brian Peck Crescent, Toronto
C11
Condo
Under Construction
2
16, 12, 18
217, 146, 316
9.0 ft
game room, gym, movie, party room, roof deck, swimming pool
family activity room, sanctuary spa
http://www.scenicliving.ca
scenic@aspenridgehomes.com
http://www.scenicliving.ca/registration.html
35 Brian Peck Crescent, Toronto
(416) 805 1781
Hours are from Monday to Wednesday from 1 to 7 p.m.; weekends and holidays from 12 to 6 p.m.; closed Thursday and Friday.
Floorplans
| FLOORPLAN | MODEL | BED | BATH | DEN | AREA (ft²) | BALCONY (ft²) | PRICE |
| --- | --- | --- | --- | --- | --- | --- | --- |
| | Scenic Tower Three: 01 | 1 | 1 | 1 | 670 | 83 | |
| | Scenic Tower Three: 02 | 1 | 1 | 1 | 649 | 93 | |
| | Scenic Tower Three: 03A | 1 | 1 | | 590 | 98 | |
| | Scenic Tower Three: 07 | 1 | 1 | | 568 | 77 | |
| | Scenic Tower Three: 08 | 1 | 1 | | 487 | 77 | |
| | Scenic Tower Three: 09 | Studio | 1 | | 425 | 75 | |
| | Scenic Tower Three: 10 | Studio | 1 | | 425 | 75 | |
| | Scenic Tower Three: 11 | 1 | 1 | | 487 | 77 | |
| | Scenic Tower Three: 12 | 1 | 1 | | 568 | 77 | |
| | Scenic Tower Three: 16A | 1 | 1 | | 590 | 98 | |
| | Scenic Tower Three: 17 | 1 | 1 | | 608 | 93 | |
| | Scenic Tower Three: 18 | 1 | 1 | | 613 | 83 | |
| | Scenic Tower Three: 16 | 1 | 1 | | 590 | 83 | |
| | Scenic Tower Three: 03 | 1 | 1 | | 590 | 83 | |
| | Scenic Tower One: N | 1 | 1 | 1 | 662 | 51 | |
| | Scenic Tower One: P | 1 | 1 | | 550 | 104 | |
| | Scenic Tower Three: 04A | 2 | 2 | | 881 | 220 | |
| | Scenic Tower Three: 05 | 2 | 2 | | 859 | 75 | |
| | Scenic Tower Three: 06 | 2 | 2 | | 907 | 100 | |
| | Scenic Tower Three: 13 | 2 | 2 | | 907 | 100 | |
| | Scenic Tower Three: 14 | 2 | 2 | | 859 | 75 | |
| | Scenic Tower Three: 15A | 2 | 2 | | 881 | 220 | |
| | Scenic Tower Three: 15 | 2 | 2 | | 881 | 147 | |
| | Scenic Tower Three: 04 | 2 | 2 | | 881 | 147 | |
| | Scenic Tower One: W | 2 | 2 | 1 | 988 | 145 | |
| | Scenic Tower One: V | 2 | 2 | | 806 | 134 | |
| | Scenic Tower One: U | 2 | 2 | 1 | 832 | 160 | |
| | Scenic Tower One: T | 2 | 2 | 1 | 875 | 196 | |
| | Scenic Tower One: O | 2 | 2 | | 804 | 90 | |
| | Scenic Tower One: Q | 2 | 2 | 1 | 942 | 126 | |
| | Scenic Tower One: R | 2 | 2 | | 896 | 46 | |
| | Scenic Tower Two: E | 2 | 2 | | 886 | 287 | |
| | Scenic Tower Two: I | 2 | 2 | 1 | 1021 | 130 | |
| | Scenic Tower Two: J | 2 | 2 | 1 | 1341 | 227 | |